Today's text is a special thank you to all our customers who share their opinion and leave their reviews on Tripadvisor. In the middle of the summer, we took a look back at the last few weeks and months of work, looking forward to what lies ahead. The opinions, feedback and ideas of our social media followers and visitors are essential for shaping future strategies.
We decided to reveal the results of our customers' reviews on the Tripadvisor platform, one of the largest publicity sites for restaurants, hotels and tourist activities. The average of four and a half stars reflects the reviews to date. Although the maximum is five stars, we recognise that we still have room to improve our experiences.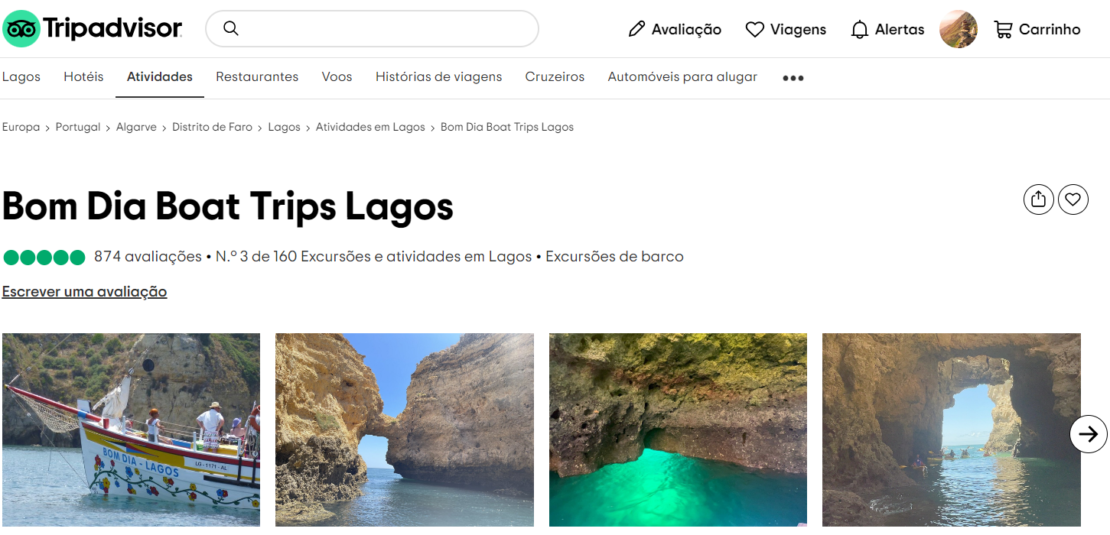 We feel immense pride and satisfaction in this assessment. It gives us the certainty that we have done our duty in showcasing the natural beauty of our coastal area and providing the maximum comfort and safety that characterise us.
Why is it important to leave your review on Tripadvisor?
By sharing your experience with us, whether it's a short trip to the caves or a four-hour day at Bom Dia Lagos, you're contributing to our continuous improvement. Leave your opinion in the comments on social media or by contacting us in other ways.
Here are some of the comments we received:
"It was an amazing time, and all the staff were extremely attentive. The views were amazing and we had a wonderful time together."
"The views of the caves are incredible, the boat crew are very friendly. Everything went well!"
"Highlight of our trip!!! We loved it! We did the 4-hour tour, and it was amazing! We loved the crew, we loved the lunch! Very tasty! We were completely surprised at how amazing it would be! We can't recommend it enough!"
Your reviews shape our tomorrow. Your feedback is essential for us to continue providing exceptional experiences!
Would you like to have an unforgettable experience?
Book your boat trip here.